Topics:
Demographics of the disease in America
Sickle Cell Centers in Connecticut
Slideshow: Spread of Sickle Cell Disease and Malaria in the world
In America, approximately 70,000-80,000 people suffer from sickle cell disease.
A person who carries the sickle cell gene has a survival advantage against malaria. Sickle cell disease primarily affects those people whose ancestors come from regions of the world where malaria is prevalent namely, Africa , the Mediterranean , South America and India . In our society the disease occurs in 1 in every 500 African American births and 1 in every 1000-1400 Hispanic American births.
1 in 12 African Americans (~1% of the population) carries the sickle cell trait. The disease is present in Connecticut in the same proportions as the rest of the country.
Connecticut has two sickle cell centers to serve its sickle cell population - one in Hartford (St. Francis Hospital) and one that is run out of Yale-New Haven Hospital.
Currently, there is no cure for sickle cell disease, the primary treatment is that of blood transfusions, which acts to effectively decrease the concentration of sickle cell hemoglobin in the blood.
~~~~~~~~~~~~~~~~~~~~~~~~~~~~~~~~~~~~~~~~~~~~~~~~~~~~~~~~~~~~~~~~~
View the Slideshow for the spread of Malaria and Sickle Cell Gene
click here if you are using:
Internet Explorer on a PC: Slideshow (opens a new window)
Internet Explorer on a Mac: MS Powerpoint show (open/download the file, must have Microsoft Powerpoint to view)
Netscape Navigator: MS Powerpoint show (open/download the file, must have Microsoft Powerpoint to view)
* takes around 1 minute to load with a 28.8 kbps modem
Outtakes of the slideshow: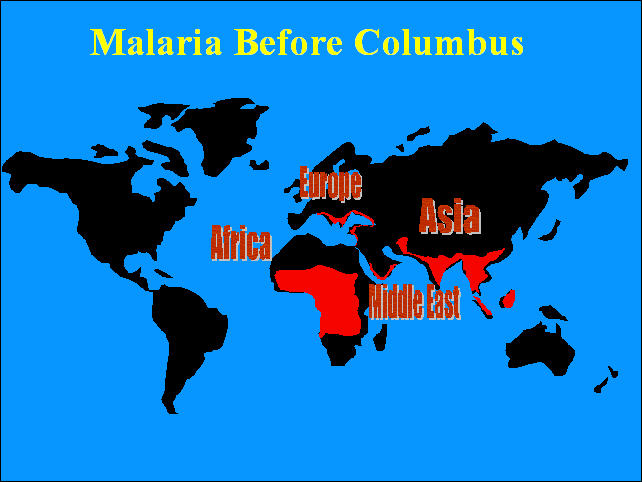 Malaria before the time of Columbus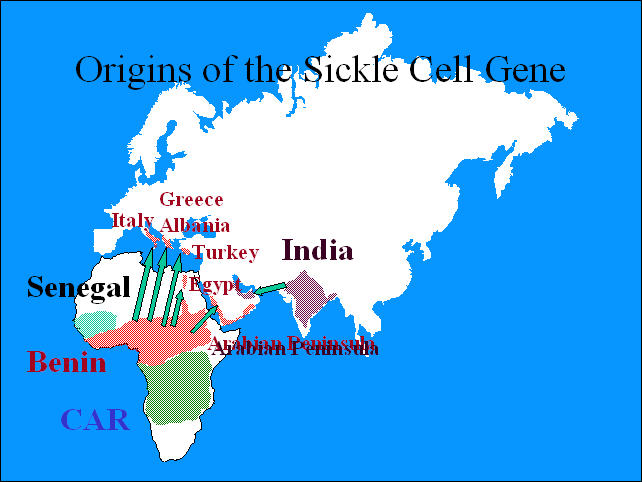 The Origins of the Sickle Cell Gene
(Basics of Sickle Cell)
(What is Hemoglobin?)